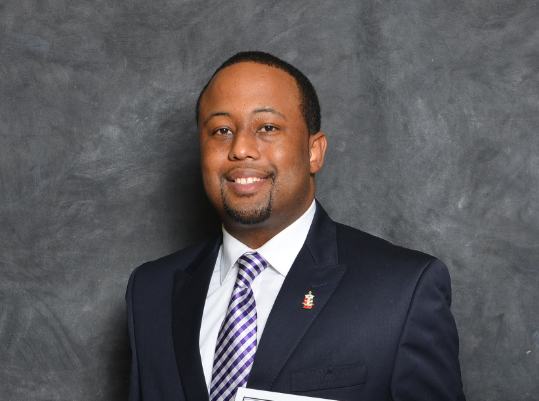 Dr. Jamone Edwards will serve as an Assistant Superintendent in the North Panola School District. He has 10 years of K-12 educational experience. His philosophies of education are 'all children can learn' and 'if we teach them well, they will lead the way'. He believes his existence in education is 'only for students'. Being a product of the Panola County educational system, Dr. Edwards' goal is to help transform North Panola into a premier educational institution.
Dr. Edwards has served as an assistant teacher, teacher, bus driver, coach, lead teacher, and principal. As principal, he led NPHS to a 'B' Rating in four years. He attributes the success of North Panola High to quality teaching, use of research based practices, increasing teacher capacity, implementing systems of accountability, and implementing systems to create a positive school atmosphere. He was invited to serve as a panelist for the University of Mississippi's (U of M) Educational Leadership Department. In addition, he has been highlighted by The U of M in its leadership recruitment.
Dr. Edwards holds a Bachelor of Arts degree in Educational Psychology from Mississippi State University and a Masters Degree in Educational Leadership from the University of Mississippi. He is currently pursuing a Doctorate Degree in Educational Leadership.
Awards and Highlights:
· Highlighted by Mississippi Public Broadcasting for leading a School Turnaround (2011)
· Highlighted by Mississippi Teacher Corp (2011)
· Recognized by the United States Department of Education for School Turnaround (2013)
· Highlighted by the MDE's Office of School Turnaround (2014)
· District Administrator of Year (2015)
· Awarded the "Champion of Change" Award by MDE
· Recognized by Congressman Bennie Thompson (2015) Congressional Record
Resources
Mississippi College- and CareerReadiness Standards for Mathematics
Interpreting the PARCC Math Assessment Evidence Tables
Common Core State Standards for Mathematics
Interpreting the CCSSM and PARCC Mathematics Documents
ELA
Mississippi College- and Career Readiness Standards for Mathematics
Mississippi College and Career Readiness Standards for English Language Arts
Mississippi College-and Career Readiness Standards for ELA
Common core state STANDARDS FOR English Language Arts & Literacy in History/Social Studies, Science, and Technical Subjects
Training Material
470 Hwy 51 N Sardis, MS 38666
662-487-2305